5 Moments of Need - Design Certifikat
Det kan vara utmanande för dagens organisationer att ge bra förutsättningar för lärande i virtuella lärmiljöer. Med ökat distansarbetet och hög förändringstakt är både virtuellt och organiskt lärande det nya normala.
5 Moments of Need är en designmetod för lärande och arbetsinstruktioner som gör det möjligt för anställda att enklare utbilda sig löpande medan de jobbar. Ett sätt att reducera avbrott i arbetet som sker i klassrum- och onlineutbildningar eller när den enskilde behöver fråga runt bland kollegorna för att finna svar.
START 24 OCTOBER
Hjälp teamet att prestera - lärande och problemlösning när de jobbar
På den här kursen kommer du att bli certifierad och lära dig hur du genomför snabb arbetsflödesanalys, kritisk kompetensanalys, kartlägger arbetsflödet, göra en plan för lärande och innehåll. Du kommer att utveckla en prototyp för en digital coach och en prototyp för det riktade lärande (verksamhetskritiskt kompetens). Du kommer att veta hur du kan minskar den traditionella klassrumsundervisningen genom lättillgängliga digitala resurser för anställda att använda - när de jobbar.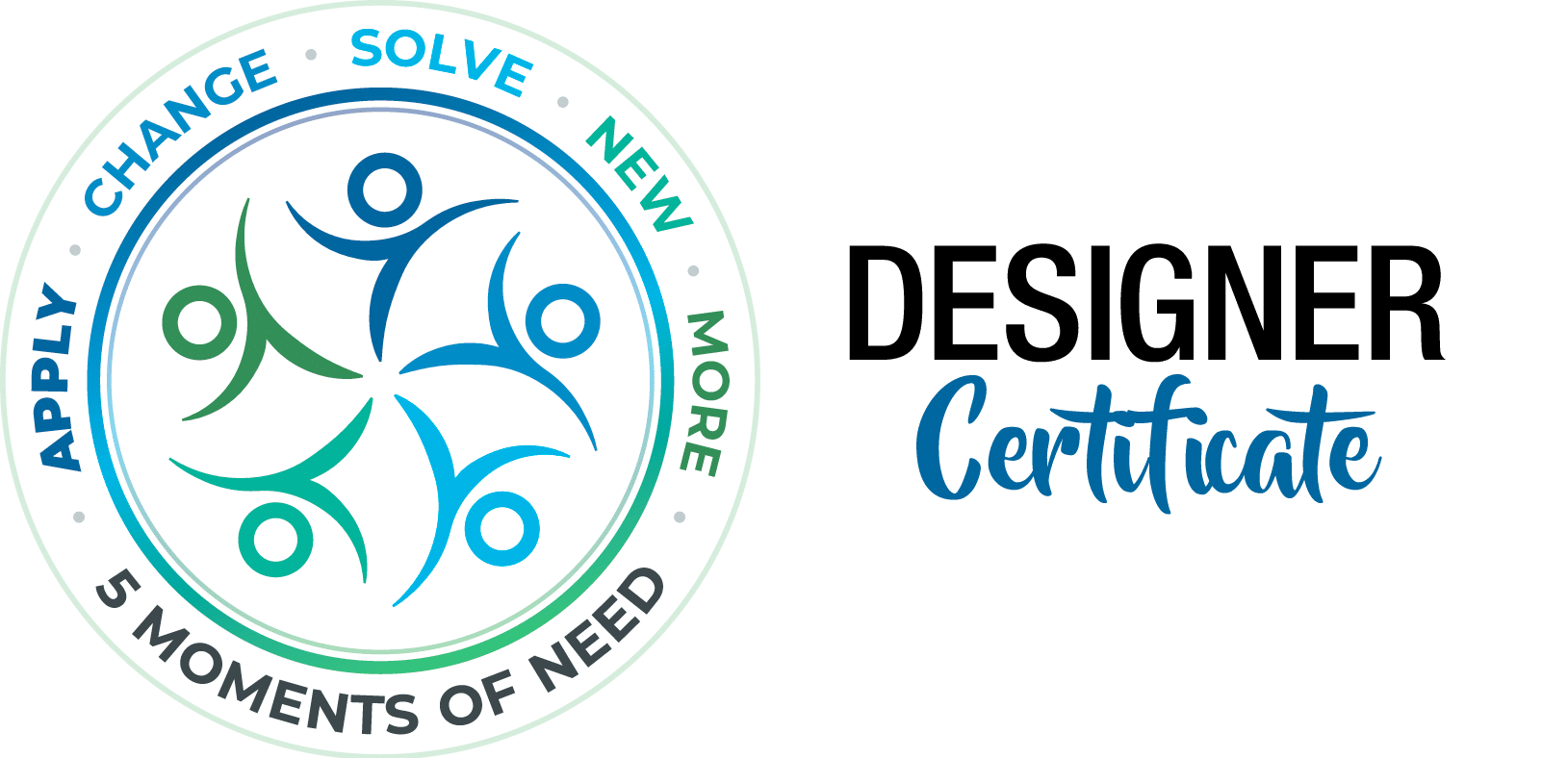 An instructional design approach that addresses all 5 moments of learning need
The 5 moments of need methodology is grounded in the science of limited human memory and the reality that most of our learning is done while working on the task at hand.
Resultatet av designprocessen kan beskrivas som ett "omvänt klassrum", där anställda spenderar mer tid på att lära sig medan de utför jobbet och minskar avbrott i arbetsflödet för att delta i t.ex. en onlineutbildning.
NYTT
When learning something for the first time.
MER
When people are expanding the breadth and depth of what they have learned.
TILLÄMPA
When people have to act upon what they have learned.
LÖSA
When they have to solve a problem or resolve an issue because things don't work the way they should.
FÖRÄNDRA
When people have to learn new ways of doing something which requires them to change/adapt deeply intergrained practices.
Cycle 1:
Foundation Principles
Onlinemöte: 24/10 13:00-16:00
Kontorstid: 07/11 13:00-14:00
Feedbackmöte: 14/11 13:00-15:00
Total Est Participant Time
Onlinemöte: 21/11 13:00-16:00
Kontorstid: 28/11 13:00-14:00
Feedbackmöte: 05/12 13:00-15:00
Total Est Participant Time
Cycle 3:
Identify Supporting
Knowledge and Determine Impact
Onlinemöte: 12/12 13:00-16:00
Kontorstid: 19/12 13:00-14:00
Feedbackmöte: 09/01 13:00-15:00
Total Est Participant Time
Cycle 4:
Prove the Performance Support Concept
Onlinemöte: 16/01 13:00-16:00
Kontorstid: 23/01 13:00-14:00
Feedbackmöte: 30/01 13:00-15:00
Total Est Participant Time
Cycle 5:
Create the Learning Experience
Onlinemöte: 05/03 13:00-16:00
Kontorstid: 12/03 13:00-14:00
Feedbackmöte: 19/03 13:00-15:00
Total Est Participant Time
19 995 SEK per participant
Discounts are available for groups of more than 5