Mental wellbeing for all coworkers.
Tetra Pak approached us with an urgent need to create online material for their mental wellbeing trainings. As they were in the process of integrating a global employee assistance program, they wanted to also make a general effort to raise mental wellbeing awareness both among general staff and among managers.
This topic became even more urgent due to the Covid-19 pandemic, which has been extremely challenging in many ways and has had a grave impact on the mental wellbeing of many. While making it a more urgent topic, the pandemic also made it a lot more difficult to address it as in person trainings became an impossibility.
How could we provide an impactful learning that engaged people on a personal level when we had to remove the possibility of meeting in person altogether to make it COVID-safe?
Additional challenges that our customer faced were a large variety of intended audiences, different regulations in each country, and different levels of comfort with the subject as well as the idea of needing to address it.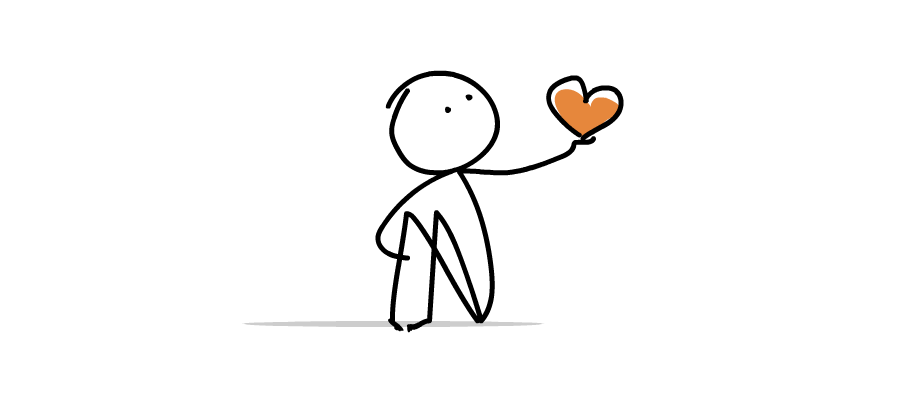 The solution
Mental wellbeing is a very human topic, one that lends itself well to discussing it face to face and in a comfortable context, so the biggest challenge was to create a learning package that would touch learners emotionally—to allow that human connectivity needed for this subject to travel through their computer screens.
We tried to encourage human connectivity throughout the learning by developing a learning concept that incorporated interactivity, encouragement to self-reflection, and a balance between theory and practice.
Encouraging interaction through exercises and reflection, we decreased some of the initial resistance that we knew some members of this broad audience might have when dealing with this topic. We also focused on hands-on tips and tricks to encourage learners to establish their own wellbeing routines.
Finally, we used clear and simple visuals to create pathos and engagement and added film and audio snippets to make the learning more personable, transporting what would have been the face-to-face instructors into the learning and making them a constant source of human interaction although in digital form.
We also developed a second e-learning, specifically aimed at managers, to help them support their team members both proactively and in case of already existing issues. This e-learning is on a somewhat more theoretical level than the first one but also keeps the topic very practical, presenting hands on tools and material that managers can use in supporting their teams. We focused specifically on the challenges in leading teams remotely and introduced some of the tips and tricks we ourselves used to create connectivity in the digital setting of the awareness e-learning.
These e-learnings are only just in the process of being rolled out 2021, so results and learner feedback of a larger group will follow at a later stage. For now, we are relying on the very positive pilot group feedback, which centred specifically on the clear tone, engaging graphics, and hands-on tools in the e-learnings.